Dublin, GA Piano Maintenance
Lavender Piano Services
Serving Dublin, Macon, Gray, Warner Robins, Perry, Milledgeville, Cochran, Eastman, And The Surrounding Areas
If you want to put a piano in useable condition for a beginner or restore a family hierloom, Lavender Piano Services of Dublin, GA in Laurens County covers your every need in the realm of piano maintenance. As a full time piano tuner / technician with 40 years of experience, we also maintain a concert quality instrument for church or stage for future performances. We are currently serving all of Central Georgia.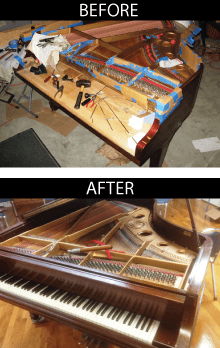 Our Services Include:
Tuning and fine adjustment
Moving your piano
Recycling and Re-purposing of pianos
Refinishing, Complete Restoration, Partial Rebuilds
Key top repairs and replacement
Soon after completing a music degree from the University of Georgia, Phil Lavender began working in the piano business. He soon realized that he was not a salesman!

Fortunately, that fact brought him to Piano Service!

Now, the customers of Lavender Piano Services take advantage of his 40 years experience in this work. As he often tells his wife at the end of a long day, "I'm sure glad I had already done that job before this, or it would have been murder!" That experience ranges from the complete restoration of unusual pianos, such as Square Grands and roll-type player pianos, to work on concert pianos or common home pianos.

Pianos that were completely rebuilt as long as 35 years ago by Mr. Lavender are still in service - a few of them in less than perfect situations! He says that it is often amazing how much better a piano can sound and play, once the instrument is put back into good condition. Many times that work is not that extensive. Regular tuning and adjustment can make all the difference.

Lavender can also handle piano moving. Do you want a precious heirloom relocated? Do you need a non-functional instrument re-purposed as a memento? We can even recycle unwanted or unsalvageable pianos. Let us move it out!


Byron, Warner Robins, Perry, Fort Valley? Yes.
Macon, Gray? Yes
McRae, Hazlehurst, Glenwood? Yes
Milledgeville, Sandersville? Yes
Swainsboro and surrounds? Yes
We serve 19 counties in middle Georgia, as well as a pocket of customers in the area near the grandchildren : Smyrna and vacinity, northwest of Atlanta.
Call Lavender Piano Services at 478-984-6254 for inquiries, or contact us at our toll-free number: 800-348-2143 to set an appointment.
Methods of Payment: